The mission of Norlynn Audio Visual Services is to provide quality, cost effective communications for Christian Ministries. We believe that God has endowed us with talents and resources that we, in turn, desire to make available to the Christian community at large.

In addition to our services offered, we believe it is our duty to find, and report on, good news stories, so that Christians may be encouraged and uplifted, thereby provoking them to righteous action within their own community.

To that end, we have equipped and trained ourselves with up-to-date technology, and production techniques, to ensure that God and our clients are honoured.
May we serve God by serving your ministry?
Producer
Stuart Spani
is available as a speaker or workshop leader.
Pat Morten
is our technical director/video editor
---
Christian Author and Video Producer
available as a speaker or workshop Leader.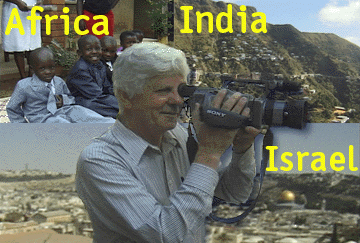 Stuart Spani, who has traveled extensively, finding good stories in dark places, is available to speak to your church or group. He will challenge Christians to seek God's purpose for their lives and follow wherever He leads, even to the uttermost parts of the earth.
Possible Topics:
Rwanda and Uganda in November 1998. An illustrated talk on a number of life changing experiences. You will experience a very dramatic reconciliation workshop in Rwanda and hear of the remarkable revival that is sweeping that country. Other stories tell of the power of Jesus, eyewitness accounts of raising from the dead, and instant cure from AIDS. This talk is about 25 minutes and can either be used during sermon time, or extended for group discussion. It will raise the level of faith and commitment in the audience.
Mizoram. What would the world be like if everyone was a Christian? Mizoram is a glimpse of just that. Try to imagine a community of over 700,000 people with no homeless, no starvation, no beggars and where all are literate. Witness this remarkable place through the eye of a camera, or better yet, discover how you can experience it first hand! Stuart calls it "the land of the laughing eyes"! A half hour documentary and discussion with the producer, ideal for groups.
Short Term Missions. Discover the joy and life changing experiences of serving God through short term missions. Holidays with eternal rewards!
Miraculous Healings. Stuart has personally received a healing of a broken back through intercessory prayer. He has also experienced many other dramatic healings where he and others have covered situations in prayer.
You can be a journalist for Jesus! Stuart is the president of Greater Vancouver Christians in Media. He is dedicated to promote the Christian world view in every type of media. Discover the many exciting opportunities to influence and challenge the media!
Discover True Joy An Evening workshop is available called DISCOVER TRUE JOY. This workshop will challenge the participants to diligently seek God's plan for their lives and then to pursue it wholeheartedly. This is the secret of finding true joy.
Call (604)988-4996 or e-mail, to book Stuart to speak to your group or to explore other possiblities.
---
Pat Morten has been involved in multi-media since 1977 (yes, 1977!). Since that time, he and Stuart Spani have worked together on many diverse projects. Most recently, they are involved in video production and distribution. Pat and Stuart have a small video production company, making use of their Canon GL-1 cameras, Adobe Premiere, Adobe After Effects, and Adobe Photoshop. They are able to take on event videography, industrial and promotional videos, from start to finish, completely in-house.
From 1991 to 2000, Pat was the technical director for the nationally broadcast program, "Bernice Gerard - Today and for Life", which was seen on Sunday nights on Vision TV. During this time, Pat was responsible for all technical aspects of the program, including:
Production
Set up and direction of three camera studio shoot (3xSony DXC M7 industrial video cameras, Echolab SE/3 10 input camera switcher, Mackie 1604 VLZ microphone mixer, Sony PVW 2800 Betacam VTR)
Post-production
For six years, linear 3/4" A/B roll with Pinnacle 2020 2D effects unit and Chyron VP5+
For three years, non-linear Avid Xpress on a Macintosh PowerMac, Sony PVW 2800 VTR, and Adobe After Effects
---
Distribution - Quality Control
Pat was in charge of every inch of tape that went to air, conforming to broadcast specifications as per Vision TV instructions.
Bernice is retired from broadcast ministry. However, she is still active in overseas ministries to children.
During the time that they were broadcasting, "Bernice Gerard - Today and for Life" was the number one rated program on Vision TV's Mosaic programming.
---
In 1977, when Stuart Spani hired Pat Morten, multi-media had a very different meaning. Today, it means video and sound and fancy graphics embedded in web pages and CD-ROM's, and the like. At one time, it refered to "Experience"-type slide shows (e.g. London Experience, New York Experience, etc), with theatres designed as part of the show, with multiple slide projectors, motion-picture (35mm and 16mm), as well as specialised sound and special effects. Vancouver BC had its own version of such a theatre at Harbour Center in the heart of the downtown area. The system consisted of 20 slide projectors, controlled by Electrosonic ES 2005 controllers, a sophisticated (for the time) surround sound system, numerous special effects, and 16mm film. After the installation, Pat became the on-site technician, performing routine maintenance, and ensuring the system was operational, as it was a major tourist attraction.
With that as a training ground, Pat and Stuart plunged into multi-image equipment rentals and staging. They developed a rental department that supplied fast-fold screens, multiple projector programming and playback equipment, and some specialised lenses. They also added slide projection programming as a service, and supplied users and producers with slide shows compatible with Electrosonic, Arion, and AVL projection systems.
---
Slide shows have been around for a very long time. Over one hundred years ago, an enterprising pioneer used a gas-light projector and travelled around England on barges setting up shows in communities he found along the canals. By manually placing and removing slides in gates behind each of the the three lenses, and opening and closing valves for the gas lights, the operator was able to achieve cross-dissolves between the hand painted slides.
By the time he went out of business, he was using eight of these, giving audiences the thrill of a twenty-four projector show. Of course, one operator was required for each projector, they had to be conducted like an orchestra, and, of course, there was always the danger of the projector blowing up.
Click here
for more info on Magic Lanterns.
Fast forward to this century, and the introduction of solid-state electronics, enabling engineers to design reliable electronic components for a reasonable price. During the early 60's, electronic devices capable of controlling slide projectors, and "fading" their lamps on and off appeared. At first they were used mainly in large venues, such as World Fairs, but more advances in engineering allowed for user friendly units. By the end of the 70's, computers began to make inroads into the slide show field. Multi-image programmers and dissolve units became smarter and smarter. However, data and video projectors also came onto the scene, competing with the 35mm slide projectors.
Today, although some 35mm slide projection is still being used, presentations are more likely to be running from a laptop computer hooked up to a data projector.
---
Web page design is a natural progression in the type of work Stuart and Pat do.
In true multi-media style, video can be combined with PowerPoint presentations, adding a new depth to web pages, as well as providing more clarity to the issues addressed.
View sample.
Pat has created sites for:
Copyright 2002 © Pat Morten